Scientists have registered a constellation shaped like a lightning bolt in honour of David Bowie and his out-of-this-world talent.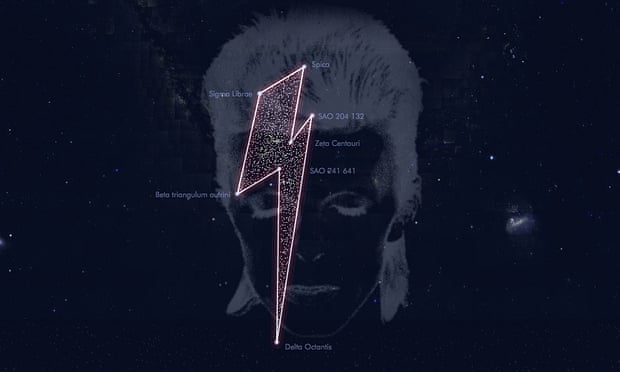 David Bowie has been given his own constellation, consisting of seven stars that shine in the shape of the lightning bolt.
Belgian astronomers announced the registration of the constellation, which appropriately sits in the vicinity of Mars, following the artist's death last week.
David Bowie's last days: an 18-month burst of creativity
Read more
It is a fitting homage to Bowie, who used the universe as a key inspiration throughout his career. Bowie first found success with the single Space Oddity and later crafted the persona Ziggy Stardust, an extra-terrestrial rockstar. His hits also included Starman and Life on Mars.
He appeared on the cover of the 1973 album Aladdin Sane with a red and blue lightning bolt painted on one side of his face.
Belgian radio station Studio Brussel and the MIRA public observatory teamed up to register the constellation, but finding the right place for the legendary rock star in the heavens was a complicated task.
Read full article here: http://www.theguardian.com/music/2016/jan/18/david-bowie-astronomers-give-the-starman-his-own-constellation
Related story: David Bowie's 'Blackstar' Album Debuts at No. 1 on Billboard 200 Chart